BILLING AND ACCOUNTS RECEIVABLE
Financial Tools
 Streamline billing processes and minimize accounting errors.
MANAGE FINANCIAL OPERATIONS
As a senior housing community, you don't use codes to bill residents, you typically bill people and not governments, and some couples share charges while others do not. Sometimes you bill two rooms at once to the same resident, and you may even provide incentives to your residents for short periods. You need the flexibility to manage your accounts receivable successfully.
Move-N gives your community the freedom to pick and choose how you want to bill your residents and their families. It's because we believe you should be focused on your residents, not your software.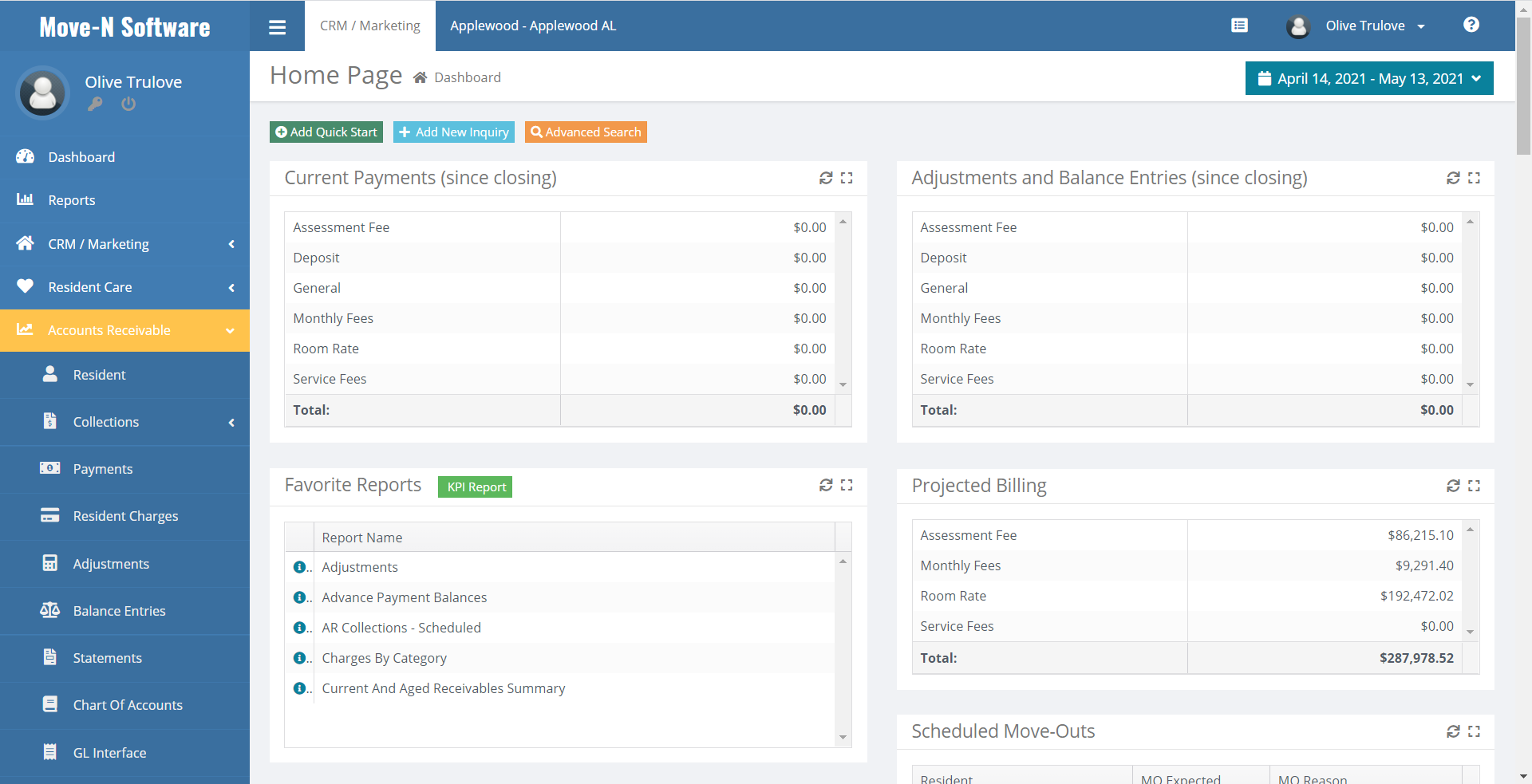 Simply enter the date an event occurs, and Move-N will do the rest. It's that easy. You can even enter event information in advance or after the fact. The program will automatically prorate, add, or reduce charges to the resident's next month's statement accordingly.
Easy to read customizable statements

Pro-rate and pop-up reminders help eliminate missed charges

Provide greater insight into your financials
CENTRALIZED BILLING SYSTEM
CONTROL CASH FLOW MANAGEMENT
REAL-TIME ACCOUNTING DATA
EASY TRANSACTIONS AND REPORTING
BATCH ENTRY OF ANCILLARY AND SERVICE FEES
DEPOSIT HISTORY TRACKED
CUSTOMIZABLE THIRD-PARTY BILLING, SEPARATE FROM RESIDENT BILLING
COLLECTIONS TRACKING AND REPORTING
ELECTRONIC BANK PAYMENTS
CHARGES AND REVENUE LINKED TO GL ACCOUNTS
RENT ROLL: ACTUAL AND PROJECTED
MULTIPLE REPORTS FOR ANALYSIS
Automatic Billing of Recurring Charges
Staff can enter resident charges one time, and all charges will automatically transfer to resident monthly statements, reducing missed resident billing due to staff oversight. Add start and end dates in advance for short-term incentives, eliminating the risk of potentially lost revenue.
Statements
Our statements are printed in large font, itemized, and easy to read and understand, reducing the amount of time your staff spends interpreting statement activity to your residents. Print or email statements, and reprint as often as you like.
Record individual or third-party payments to all resident charges and track partial payments to individual charges. Move-N keeps an entire transaction history of all charges, payments, and receipts by resident, item, and category. For fully automated payments and receipt of funds, an ACH payment setup is available.
Prorate
Move-N automatically prorates all charges without the need for timely manual adjustments. Changes can be made to room rates, level of care fees, monthly fees, ancillary or service fees even after statements have been generated.