MARKETING & CRM
Harness the power of BI to increase Census and Revenues
Gain visibility into your community's marketing efforts.
INCREASE TRANSPARENCY AND RELATIONSHIPS WITH CUSTOMERS
Move-N is a marketing and data management tool that helps gather information about your customers and their behaviors and organizes it in ways that enable your staff to convert leads into resident status quickly.
We eliminate the guesswork surrounding census and referral trends with accurate inquiry data, referral and resident insights, forecasting, trending, and predictive analysis for senior housing. Our program's intelligent design easily guides users through the lead generation and conversion process. Then, it quickly helps turn qualified inquiries into long-term residents.
Predictive analytics and guided sales prompts

Key processes designed to drive significant growth

Help exceed census and budget goals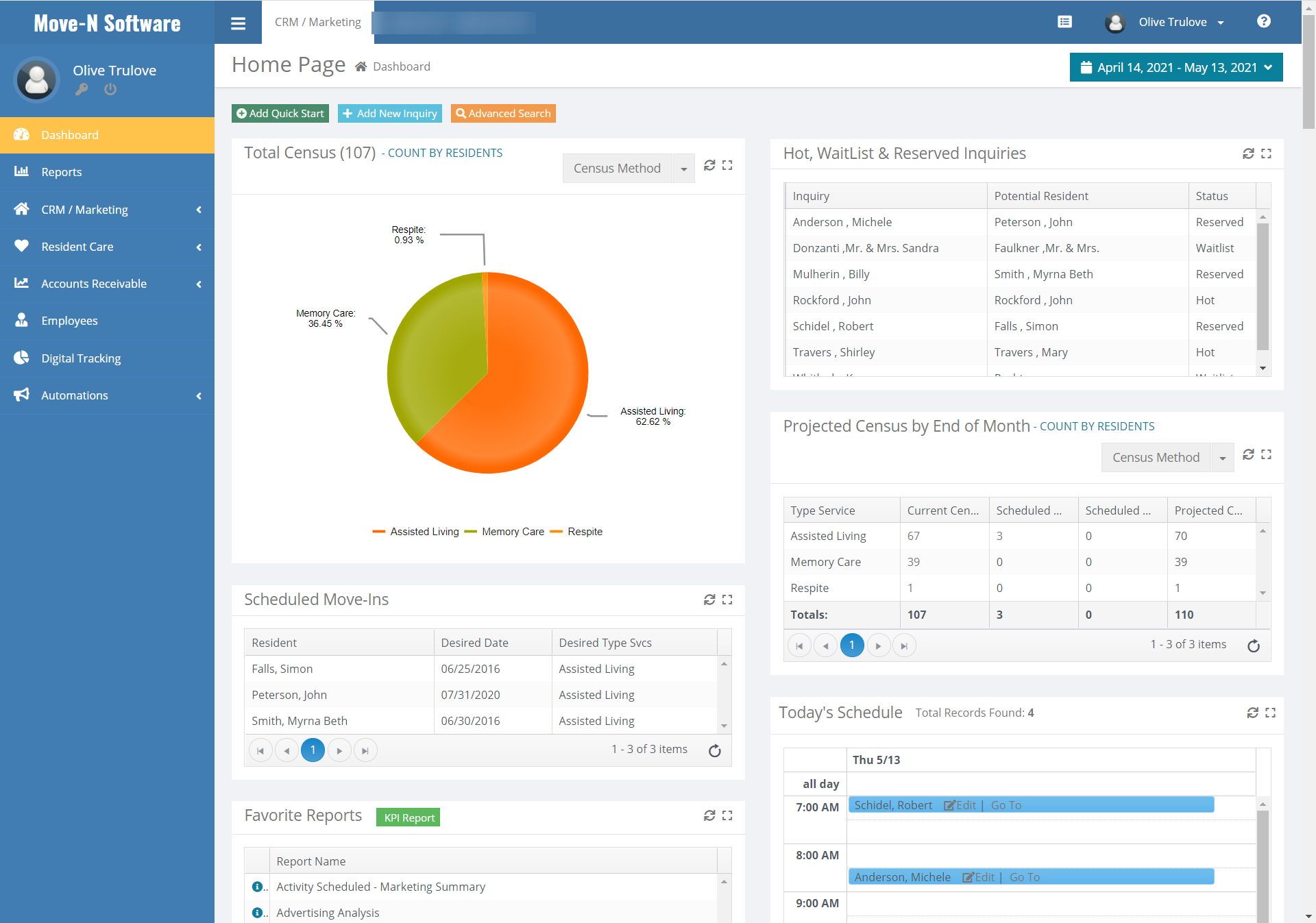 Move-N's Predictive Analytics is an innovative asset to your marketing procedures. It uses historical data already captured in your products to predict future census and revenue outcomes.
Simply enter goals for each community. Move-N lets you know how close each community is to those goals and what future activity is necessary to achieve your desired outcomes.
SOME PROJECTIONS INCLUDE:
Census and Revenues (Monthly)

Inquiries, tours, contacts, and move-ins remaining to reach monthly budgeted census goals
INTEGRATED CRM
PRIORITIZED INQUIRY AND REFERRAL SOURCE MANAGEMENT
GUIDED SALES PROCESS
MARKETING OUTREACH
MULTI-COMMUNITY SINGLE DATA ENTRY
PREDICTIVE ANALYTICS
MARKETING AUTOMATION
TEXT AND EMAIL ALERTS
DIGITAL TRACKING
EASY-TO-READ SCHEDULE
ROOM INVENTORY AND OCCUPANCY HISTORY
ADVERTISING AND CENTER EVENT MANAGER
ADVANCED TEXT, MAIL, AND EMAIL MERGE CAPABILITY
WEBSITE INTERFACE WITH AUTOMATED TRANSFER OF LEADS
AUTOMATED THIRD-PARTY REFERRAL AGENCY TRANSFERS
CUSTOMIZED KPI DASHBOARDS
PROFESSIONAL RESIDENT AGREEMENTS
Sales and Data Management
Stop with the guesswork. Move-N provides business intelligence that helps turn your well-thought-out strategies into consistently high census.
Our senior housing software helps users understand why the census is up or down and provides clear information that helps improve and regulate it.
In the rapidly growing and highly competitive senior housing market, accessing real-time data is vital if you want to stay on top. The immediate availability of accurate, insightful, strategic reports and additional key data are essential to making the right decisions. All can be accessed quickly and easily within a few clicks.
Move-N provides necessary information via flexible dashboard charts, graphs, and report formats utilizing multiple filters that allow greater individualized reporting. We also deliver access to additional community data through an API for those analysts who choose to use supplementary tools. These powerful analytics enable you to make the best strategic decisions for your senior housing community.
STANDARD REPORTS (SAMPLE)
Census revenue vs. budget (by service)
Projected census (Census plus Scheduled move-in vs. move-outs)
Sales Cycle: Inquiry to tour to move-in
Predictive Analytics
Advertising Return on Investment
Inquiries without follow-up
Lost inquiries with detail
Referral source trends with revenue generation
Conversion ratios by user
Activity Scheduled and Completed
Move-outs by reason
Unit/Room History